Tom Burrows is Media and Community Officer at Gloucester Rugby. They play in the Premiership Rugby, England's top division of rugby.
Tom is experienced Media Officer with a demonstrated history of working in the professional sports industry. Skilled in Copywriting, Sports Management, Media Communications and Rugby knowledge.
---
Q&A – professional life
What was your first sports job?
This is my first job in sport, so a bit of a novice. I have been in the role for 5 and a half seasons now after beginning in a voluntary role and moving into a full time role in 2013.
How would you describe yourself in one word?
Hard-working
What is your strongest personal quality?
Sense of humour probably!
What do you feel most proud of in your career?
I am proud to have been part of driving some great content through the Gloucester Rugby club channels, during a time where social media has grown so rapidly to where it is today.
One thing you wish you knew when you started your career?
Make the most of every opportunity you are given, appreciate every person you work with and form a relationship with. Sport is so fast-moving. Never miss an opportunity to improve yourself, or interact with your audience. Never settle in your comfort zone.
PC or Mac?
Mac
What trend(s) will dominate sports industry in next years?
I think the fact that club's and 'athletes' will dominate their own content, and be their own news and agendas, as content gets easier and more brave in its creation.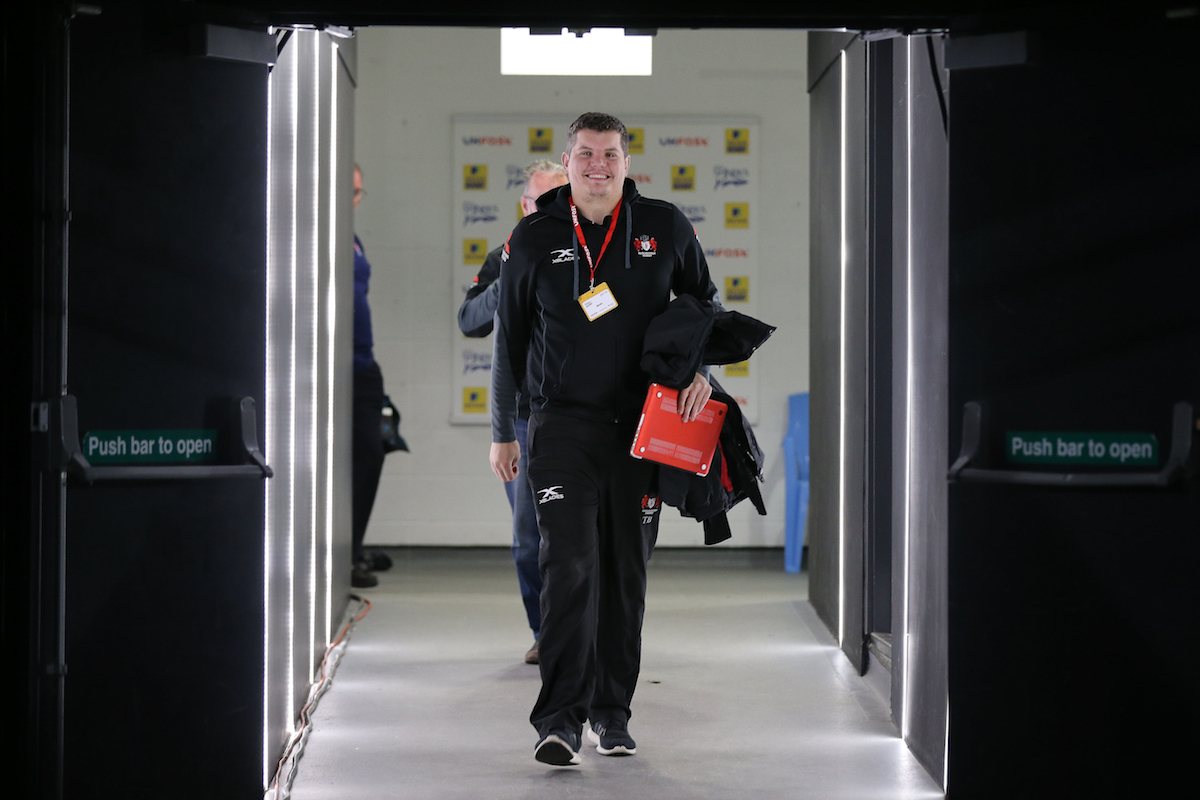 ---
Q&A – personal life
What did you want to be when you were growing up?
I've always loved sport, and wanted to be a professional footballer. Living and growing up in Gloucester, rugby had to be the way to go! When I realised that professional wasn't to be, I wanted to write about, and be immersed in sport.
What's your favourite movie?
Baby Driver is a super watch, but can't look past Stepbrothers
Which words do you most overuse?
"Coffee?"
Do you play any sport?
Some social five-a-side football, occasional game of tennis, and lots of cricket in the summer. Recently ran a Half Marathon too!
Who's your favourite athlete?
Jimmy Anderson
Who would you invite to your dream dinner?
My wife Tessa, James Acaster (comedian) and Thierry Henry.
What is top of your bucket list?
To see the world.
What 3 things would you take with you to a desert island?
My dog Finlay, bucket of Haribo, Netflix
---
Thanks for reading Q&A with Tom Burrows!
Find this session interesting? You can follow Tom at LinkedIn and Twitter.
Do you have suggestion who should we introduce next? Feel free to contact us!