Mark Snell is Communications Manager at Arsenal Football Club. His career in football industry started at Scottish Football Association, where he was working for 10 years.
Mark's specialties include i.a. Sports Marketing, Public Relations, Social Media, Sponsorship and Event Marketing.
Update: Since September '18 Mark is working at the BIG Partnership, one of the UK's leading PR and marketing agencies, based in Glasgow.
---
Q&A – professional life
What was your first sports job?
My first real sports job was in an administrative role at the Scottish Football Association when I was 20-years-old. Prior to that I volunteered at football clubs and media organisations which allowed me to pick up some great work experience and contacts.
How would you describe yourself in one word?
Friendly!
What is your strongest personal quality?
I believe I am very trustworthy and that's something that colleagues, media, athletes, etc really appreciate in the sports industry.
What do you feel most proud of in your career?
It's difficult to identify a particular moment but working with the Scotland national team is certainly something I'll always cherish and look back on with great pride.
One thing you wish you knew when you started your career?
The value of good contacts. I would encourage any aspiring PR, marketeer, or journalist to work hard at forging strong (and genuine!) relationships with people in the sports industry.
PC or Mac?
PC
What trend(s) will dominate sports industry in next years?
Social media. It's already an important communication and marketing tool and I believe we'll see athletes, sports organisations, media, etc invest heavily in this area in the future.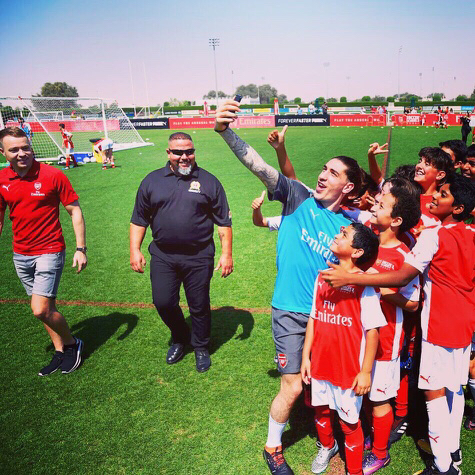 ---
Q&A – personal life
What did you want to be when you were growing up?
A professional footballer (I was and am still rubbish!!). I also wanted to be a sports journalist which is why I studied journalism.
What's your favourite book?
I don't a particular favourite but I enjoy sports autobiographies. I really liked Sir Alex Ferguson's which I read quite recently.
Which words do you most overuse?
I think my colleagues would say I overuse Scottish slang words which they struggle to understand!
Do you play any sport?
Just football (5-a-side). More of an armchair fan now!
Who's your favourite athlete?
In football it's Henrik Larsson. I idolised him growing up! I am also a fan of Sir Andy Murray who has helped raise the profile of Scottish sport tremendously.
Who would you invite to your dream dinner?
I've gone for a football themed dinner so Henrik Larsson, Sir Alex Ferguson and Cristiano Ronaldo. All have achieved so much success in football and in life.
What is top of your bucket list?
I really enjoy traveling and visiting new places. I would like to travel around America in the near future.
What 3 things would you take with you to a desert island?
My mobile phone, some beers and of course a boat to get back off the island when I have finished the beers!
---
Thanks for reading Q&A with Mark Snell!
Find this session interesting? You can follow Mark at LinkedIn or Twitter.
Do you have suggestion who should we introduce next? Feel free to contact us!