Carlo Saronni is Team Manager at UAE Team Emirates. He has 15 years of experience as a cyclist, which for sure helped him become a youngest Team Manager in the entire UCI World Tour.
Past experience of Carlos Saronni includes also being Head of Media and Communications, PR / Social Media Manager, Sponsorship Manager and finally Team Manager at Team Lampre Merida.
---
Q&A – professional life
What was your first sports job?
I was a rider for 15 years.
How would you describe yourself in one word?
Thoughtful
What is your strongest personal quality?
It's the patience that I have listening people and give them all myself for help in every way.
What do you feel most proud of in your career?
I am proud to arrive at this position through a long series of steps: rider, media maker, press officer, sponsor manager and now Team Manager. Doing that I covered in very short time, the normal career that could require long time. Thanks to the guide of my father Giuseppe that was a champion on the bike and now also down of it, I learned that job easier. I am the youngest T.M. in UCI WT yes, and that's why.
One thing you wish you knew when you started your career?
To control more the bad moments without too much stress. Now I know how to do this and how to focus myself more on the right things with right timing.
PC or Mac?
Mac
What trend(s) will dominate sports industry in next years?
I think that the health in general, will be the most important thing that could move sports in every way. Our society now is focused on all that modern things like socials and internet, smartphone, pc and the people forget to move and be in open space inside nature.
The sport can help people to solve big problems with health and also save people from the problems that are coming with all the new abuses of technologies that are inside our society. It can also let people stay toghether and leave the technologies for just few important hours in day or a week, reset the mind from the stress that them bring to a human.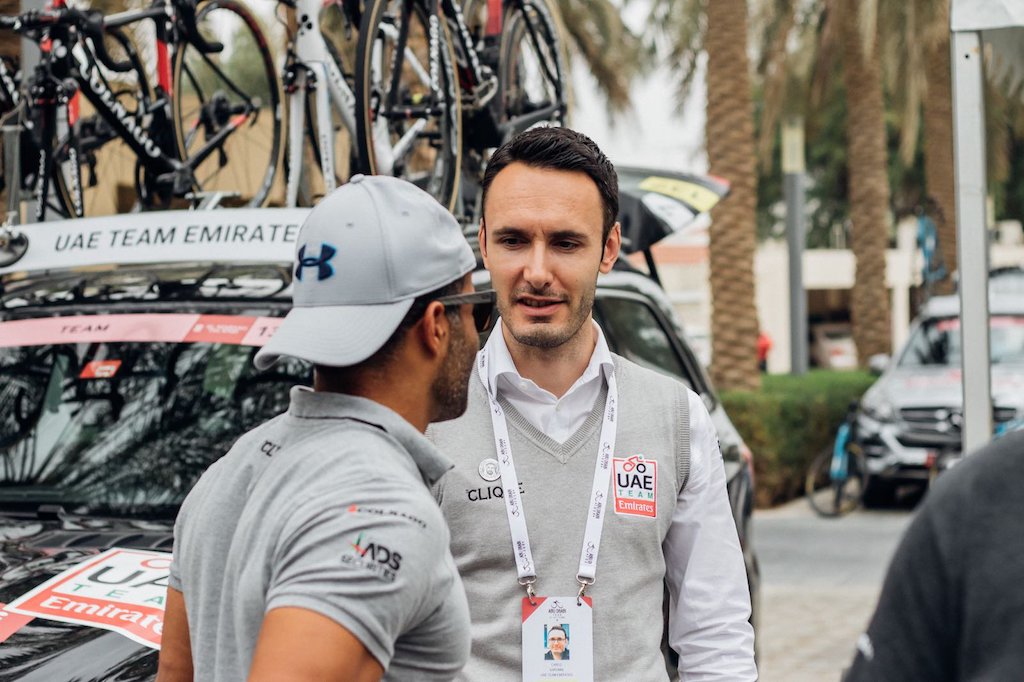 ---
Q&A – personal life
What did you want to be when you were growing up?
I wanted to arrive at the top of my sport, cycling, managing a Team that can bring an important message to the fans. And with UAE Team Emirates now I have this opportunity, working with our sponsor on promote sport and cycling in a country where until few years ago this sport was not so famous. In that country our goal is to bring people on the bikes and ride with all the best passion possible, helping in that way them to feel better and have a good health. That's amazing and im proud to be part of that.
What's your favourite book?
I don't have one, but I like to read different types like also for music and movies. I don't have a close view but I like to be open to more options possible.
Which words do you most overuse?
"Thank you" is my favourite. Inside the team, inside the family, outside them… I really like to say it as much as possible, it's one of the most sincere words in the world.
Do you play any sport?
Yes I like cycling, also if I have not so much time for it. I like also play football with friends anywhere and I go to gym also for use as much muscles as possible without abuse of them.
Who's your favourite athlete?
It's not possible to find one… Every sports has one. In my sport in these last years I think that we have a super guy that is Peter Sagan. He enjoys his job and he shows how he finds great be a cyclist also if it's a job for him.
Who would you invite to your dream dinner?
I would like to invite for one time all the people that were helpful for my life at now. Who is not on this earth unfortunately together with who still here, have a long dinner together for make a jump from the past to the present with the eyes on the future. It could be amazing have all them in one time…
What is top of your bucket list?
For sure the health for me and all the people precious around me. If you don't have it, all the other things are with no sense…
What 3 things would you take with you to a desert island?
In a song of Jovanotti, one of my favourite singer, he says: wind, rain and blood into he vains, yes at the end all a human needs to feel alive. Nothing else.
---
Thanks for reading Q&A with Carlo Saronni!
Find this session interesting? You can follow Carlo at LinkedIn or Twitter.
Do you have suggestion who should we introduce next? Feel free to contact us!